How Erick Thohir can make Indonesian Coffee more competitive?
English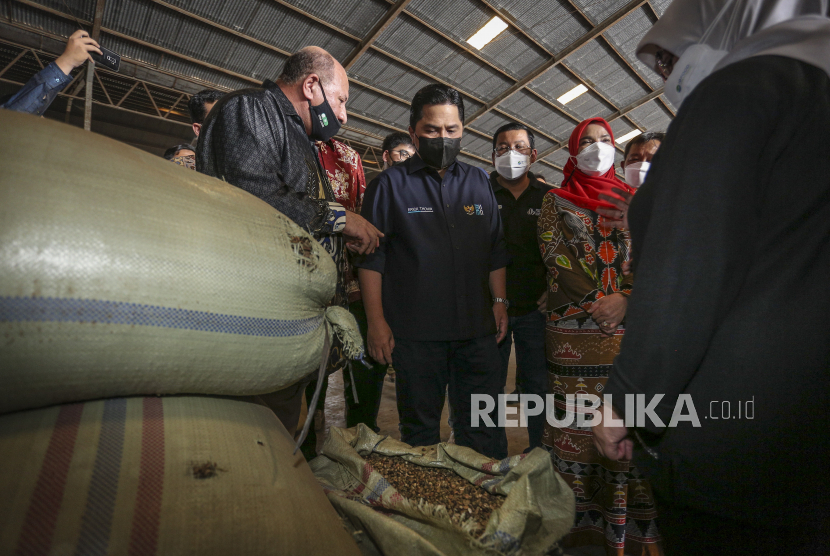 Minister of State-Owned Enterprises (BUMN) Erick Thohir released the first 2022 coffee exports from PT Indonesia Trading Company (Persero) (PT PPI) as much as 130 tons to Egypt in Lampung, Sunday (30/1/2022).
Erick said that PPI would regularly continue to export coffee to Egypt until the end of 2022 up to 3,000 tons based on a contract signed in early January. Erick said, this export itself has been going on since September 2021 based on a contract that was signed in 2021, which is 600 tons.
"This bilateral cooperation is one step to build economic strength in their respective regions, which can expand market access for other Indonesian products to Africa, Europe and the Middle East," said Erick.
Scroll untuk membaca
Scroll untuk membaca
Erick said that Indonesia is the largest coffee exporting country to Egypt in the world. Therefore, the Ministry of SOEs is currently building an ecosystem to support the development of coffee production in Indonesia.
This is done to realize the welfare of coffee farmers in Indonesia considering that 96 percent of coffee production is carried out by indigenous farmers.
Erick assessed that the Makmur ecosystem needed the support of all parties, including local governments, other ministries, the private sector, and embassies.
On this occasion, Erick also inaugurated the establishment of a coffee project management office (PMO) in order to enable the Indonesian coffee ecosystem to compete with the world because Indonesia has the world's largest coffee market growth capital.
PMO Kopi Nusantara which consists of BUMN, national private sector, associations, and research and development (R&D) institutions is expected to be able to encourage the advancement of the coffee industry ecosystem in the country.
It is also to accommodate the interests of coffee business players to encourage the domestic coffee industry to be globally competitive.
Erick said coffee farmers have now officially joined the Makmur program ecosystem which has succeeded in increasing the productivity and welfare of rice, corn and sugar cane farmers.
The Makmur program itself has reached 71,612 hectares with 50 thousand rice, corn, sugar cane and horticultural farmers who are able to increase farmers' income by 45 percent.
So far, said Erick, Indonesian coffee is only used as a mixture by the global market because the quality produced is not optimal. This is the same as rice that does not have international standard quality.
This problem, continued Erick, is due to the absence of qualified technology support in producing the best quality coffee.
Ikuti Ulasan-Ulasan Menarik Lainnya dari Penulis Klik di Sini